The North American Gelato Challenge
GTI Designs and GPI America are proud to announce the top three winners of the New York Gelato Festival World Masters challenge, held in Ronkonkoma, New York, at GTI Designs on April 25 in conjunction with Carpigiani.
Twelve gelato makers from the eastern United States participated in the competition by preparing their unique gelato flavors and presenting them to a technical jury.
The top three winners, and their winning flavors, are: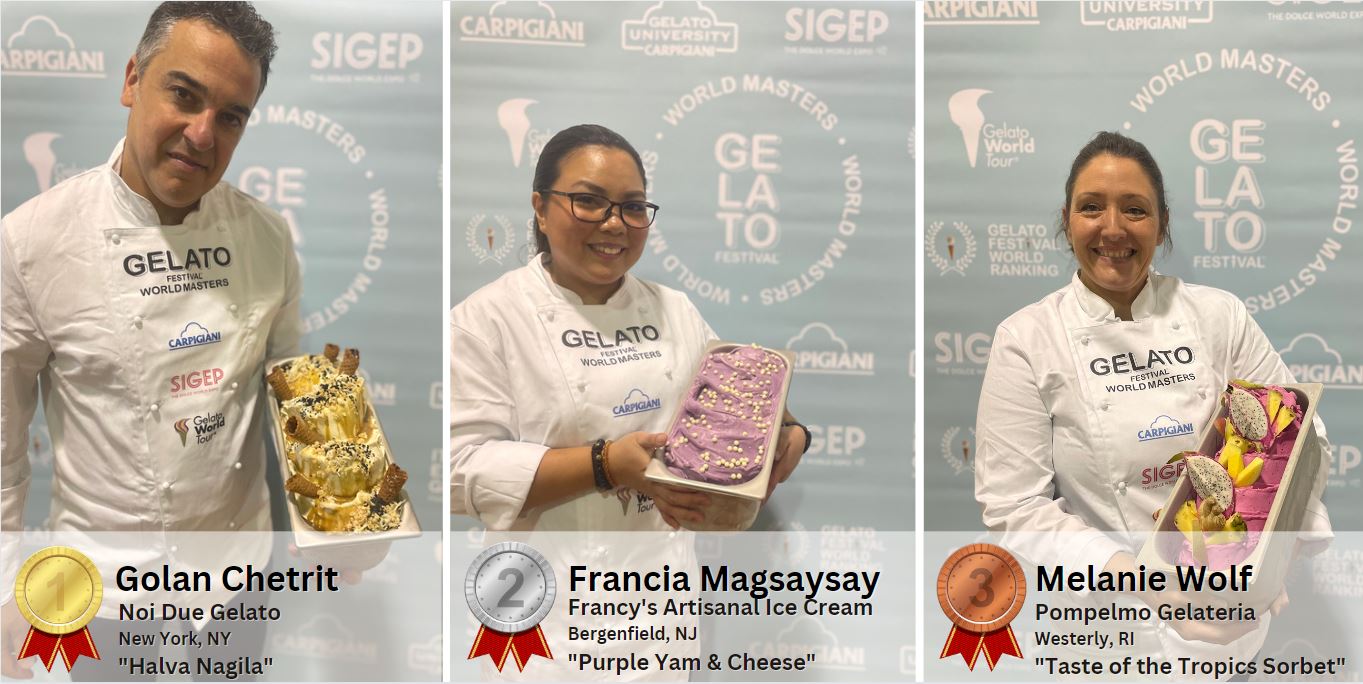 First place: Golan Chetrit of Noi Due Gelato in New York City with the flavor "Halva Nagila"
Description: Halva gelato with tahini cilan & roasted crispy rice
Second place: Francia Magsaysay of Francy's Artisanal Ice Cream in Bergenfield (NJ) with the flavor "Purple Yam and Cheese with Craquantes"
Description: Purple Yam and cheese gelato with white chocolate pearls
Third Place: Melanie Wolf of Pompelmo Gelateria in Westerly (RI) with the flavor "Taste the Tropics Sorbet"
Description: Tropical harmony of passion fruit, dragon fruit, pineapple, mango & essence of ginger
While there can only be three winners, it should be noted that choosing them was not an easy decision. All twelve competitors created amazing flavors and exhibited a mastery of their craft.
The other contestants in the New York North American challenge were:
Justin Gilbert of Gelato Gilberto in Louisville (KY) with the flavor "Kentucky Bourbon Ball"
Marion Kempf Manderville of Marion's Gelato in Mt. Pleasant (SC) with the flavor "Salted Caramel Pecan"
Micheal Rocca of Gelato Envy in Rockaway (NJ) with the flavor "Nutty Truffle Razzle Dazzle"
Beth Richardson of Spotz Gelato in Georgetown (KY) with the flavor "Banana Pudding"
Anna Franchi of ViAle Gelateria in Lynbrook (NY) with the flavor "La mia Pastiera"
Esad Lekic of Avrilililly's in New York City (NY) with the flavor "Jewels of the Caribbean"
Marsha Benson of Iorio's Gelato in Ann Arbor (MI) with the flavor "Hazelnut Coffee Crunch"
Emanuele Catalano of Julietta Gelato in New York City (NY) with the flavor "Julietta"
Lindsey Verardo of Lick's Italian Gelato in Sunnyside (NY) with the flavor "Redskin Peanut Gelato"
The New York Challenge is the fourth and last North America regional gelato challenge to be held in 2023 as part of the Gelato Festival World Masters championship. Three winners from each of the regional challenges will advance to the North American semi-finals to be held in Los Angeles in September 2023. The Gelato Festival World Masters, sponsored by Carpigiani and Sigep – Italian Exhibition Group, is holding a four-year series of competitions to find the world's best gelato. Over the 2022-2025 time period, a series of regional competitions will be held, with the final global competition to be held in 2025 in Italy.
The gelato creations are judged on the choice of ingredients used, technical structure, craftsmanship in creating the recipe, and visual impact. At each competition, the gelato will be judged by a panel of esteemed judges. The judges for the North America challenge in New York were:
Victoria Jordan Rodriguez - Director of Special Projects, James Beard Foundation
Melissa Walnock - CIA Associate Professor, Baking and Pastry Arts
Dylan Lemay - Owner of Catch'n Ice Cream, New York, New York
Andrea Zanin - President and CEO of Andrea Zanin Group New York
While this round of the Gelato World Masters has come to a close, the competition is far from over!
Our three winners, as well as the winners of the previous Gelato Challenges in 2022 and 2023 will compete again next year, in Los Angeles for the semi-final. The winners of that challenge will move onto Italy in 2025 for the final round!