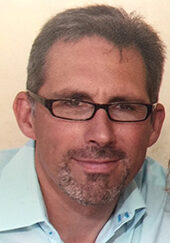 Andrew Seabury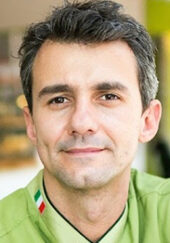 Gianluigi Dellaccio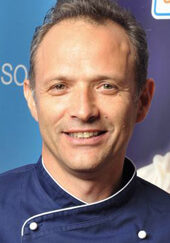 Gianpaolo Valli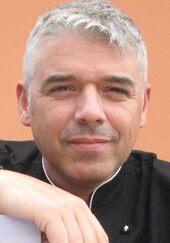 Roberto Lobrano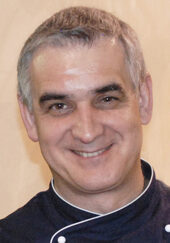 Luciano Ferrari
---
Andrew Seabury
Andrew Seabury is the President of GTI Designs Group based in New York, which incorporates Gourmet Technologies, Inc., WorldofGelato.com, and GTI Designs. He serves on the advisory board of the Gelato and Pastry Institute of America. With over 20 years of experience in the foodservice industry, specializing in both design and equipment, Andrew has designed and built nearly 900 stores and restaurants including cafes, bakeries, supermarkets, gelaterias, and ice cream stores throughout North America. Combined with 20 years' experience as the Carpigiani Distributor for New York / New Jersey metropolitan area, Andrew has a background that offers a unique knowledge and understanding of the rapidly growing frozen dessert market.
His contribution to the Frozen Dessert University courses includes a strong design element, outlined through a step by step process in which course attendees will learn the do's and don'ts of store planning, from finding a location to the actual design and layout of the store itself. The objective of offering the Design Course in addition to the Gelato Seminar is for students to learn how to effectively turn their skills of gelato making into a successful business, considering all aspects of effective frozen dessert business management.
He was featured in the Frozen Dessert Retailers' Hall of Fame: VIEW ARTICLE
---
Gianluigi Dellaccio
Gianluigi Dellaccio was born in Naples, Italy in 1975.  Originally a star professional Water Polo player, Gianluigi played for Naples as well as for Italy, scoring the winning goal in the Italian Championship game in 1993.  In 1996, Gianluigi made a major career change deciding to pursue his other passion, pastry and the art of making gelato.  He studied pastry and the art of gelato making in top school in Milan; later he moved to Bonn Germany to work with Lazzarin, a very famous gelato chain owned by his family.  His experience includes work at the Ritz Carlton and acting as executive pastry chef for Galileo and Il Labritorio for 6 years.
He is classically trained as a gelato maestro in Italy, then in 2000, he came to the U.S. and created a successful gelato business called Dolci Gelati.  Now, he has three thriving locations in the Washington D.C., Virginia and Marylard.  He, also, distributes gelato to various locations.  From local restaurants and specialty supermarkets such as Dean and Deluca & Wholefoods, to food carts at venues like the National Zoo, National's ballpark, and many spots along the Pennsylvania Turnpike, people come far and wide to taste his delicious, award-winning gelato.   Chef Gianluigi Dellaccio has made pastries for Bono, President Clinton, Queen Rania of Jordan and even the Pope!!
In 2016, at the Gelato World Tour competition in Chicago, Illinois, Gianluigi blew the judges away with his Suffron Pistachio with Candied Lemon Peel gelato; making him one of the few finalists representing the USA for the Gelato World Tour.  A year later, Boulder, Colorado was the home of the most important event dedicated to the Artisanal Italian Gelato, the Gelato Festival.  This "on the road" festival travels throughout Italy, Europe and America rewarding the best Italian and foreign gelato artisans and chefs for their flavors created for this special event.  On October 1, 2017, Gianluigi Dellaccio with his honey mascarpone & fig gelato stepped up to the competition.  Made with mascarpone cheese, locally harvested raw honey, and special figs, his incredibly light and creamy gelato won the festival with its perfect balance of delicate sweetness.  It was because of this victory, Gianluigi was honored with the title of Gelato Ambassador of the United States.
Some of the keys to the gelato mystique are product display, serving, quality of the taste, service behind the counter as well as the food safety of the product.  With Gianluigi, not only do you get a unique, first-hand insight on how to be successful in the gelato industry, but you learn the secrets of perfecting a craft that has taken the world by storm.  When you leave the course you will have a wealth of knowledge preparing you to begin making your very own gelato.  Gianluigi will make your training at GPI both informative and fun, while giving you the tools to create authentic gelato, just like he learned in Italy.
Articles:
Alexandria Living: From Water Polo to "Gelato Ambassador" in Alexandria
---
Gianpaolo Valli
Originally from Lecco, Gianpaolo is an internationally recognized food technologist specialized in Science and Technology of Gelato. He has been collaborating with the Carpigiani Group for over 25 years and has been responsible for the Research and Training division at Carpigiani.
He is currently a Senior instructor at Carpigiani Gelato University and is also a consultant to a number of gelato shops in Italy and abroad. He has provided courses, seminars and demonstrations in over 55 countries. In Valla's more than 25 years as a gelato master, he has acquiesced to some rather strange requests, including creating a tasty salmon gelato, a pesto gelato for an Indian chef and three different kinds of beer gelato for a German gelateria. However, Valli has also experimented and invented his own delicious combinations, such as pear and parmesan gelato, pineapple and basil, rosemary and lemon. Besides his mother language Italian, Gainpaolo is fluent in English as well.
---
Roberto Lobrano
Roberto Lobrano began his career studying under some of the most important gelato masters in Italy. He enhanced his hands-on skills through education, earning a Masters in Promotional Events, and an additional Masters in Marketing, including significant experience in the business arena. Roberto is much in demand as a private consultant and through his work partnering with some of the biggest names in the industry. He has helped establish ice cream techniques and marketing for businesses worldwide and worked fundamentally establishing many new ice cream parlours. He keeps up to date with the industry through his family's own ice cream parlour.
With all this experience, he is often asked to share his knowledge in writing. He has published a book on marketing skills in gelato selling and writes a column concerning customer's satisfaction and marketing for the magazine "Il Gelatiere Italiano."
---
Luciano Ferrari
Luciano Ferrari has been holding training classes on gelato and ice cream production around the world for the past 18 years. He has conducted more than 60 seminars in the United States alone on ice cream and gelato production and resides in Italy where he is continuously working in the gelato industry. Luciano is currently the International Training Director with the Carpigiani Group in Bologna, Italy, the largest manufacturer of "on-site" ice cream and gelato production equipment in the world. He leads a team of professionals that has held more than 300 seminars worldwide each year. Luciano has conducted training sessions in prestigious institutions like the Johnson & Wales University in Providence, RI, the French Pastry School in Chicago, the Lenotre Pastry School in Houston, TX, as well as in other culinary schools in Italy, Belgium, Holland, Spain, Hungary, Poland, Lithuania, Scandinavia. Being in close contact with the frozen dessert industry, he has developed successful concepts for several major ice cream franchises in the US as well as new products for operations in Europe. Some examples are the fruit flavored beer sorbet line for the Belgo restaurants in London, and wholesale operations in China, Vietnam and India. Besides his mother language Italian, Luciano is fluent in English, Polish and French.